Disco's AI Co-pilot is an innovative tool designed to automate tasks, provide valuable insights to members, and enhance your overall community management experience. This guide will walk you through the step-by-step process of setting up and using the AI Co-pilot tool, allowing you to save time, improve productivity, and deliver exceptional community support.
Step 1 - Required: Connecting Disco Community with Slack
Log in to your Disco account and navigate to the Admin Dashboard.
In the Integrations settings, locate the Slack integration option and click on it.
Follow the prompts to connect your Disco community with your specified Slack workspace.
Step 2: Activating AI Co-pilot
Once the Slack integration is successfully established, navigate back to the "Integrations" section in the Admin Dashboard.
Click on the "Activate" button to initiate the connection between Disco AI Co-pilot and Slack.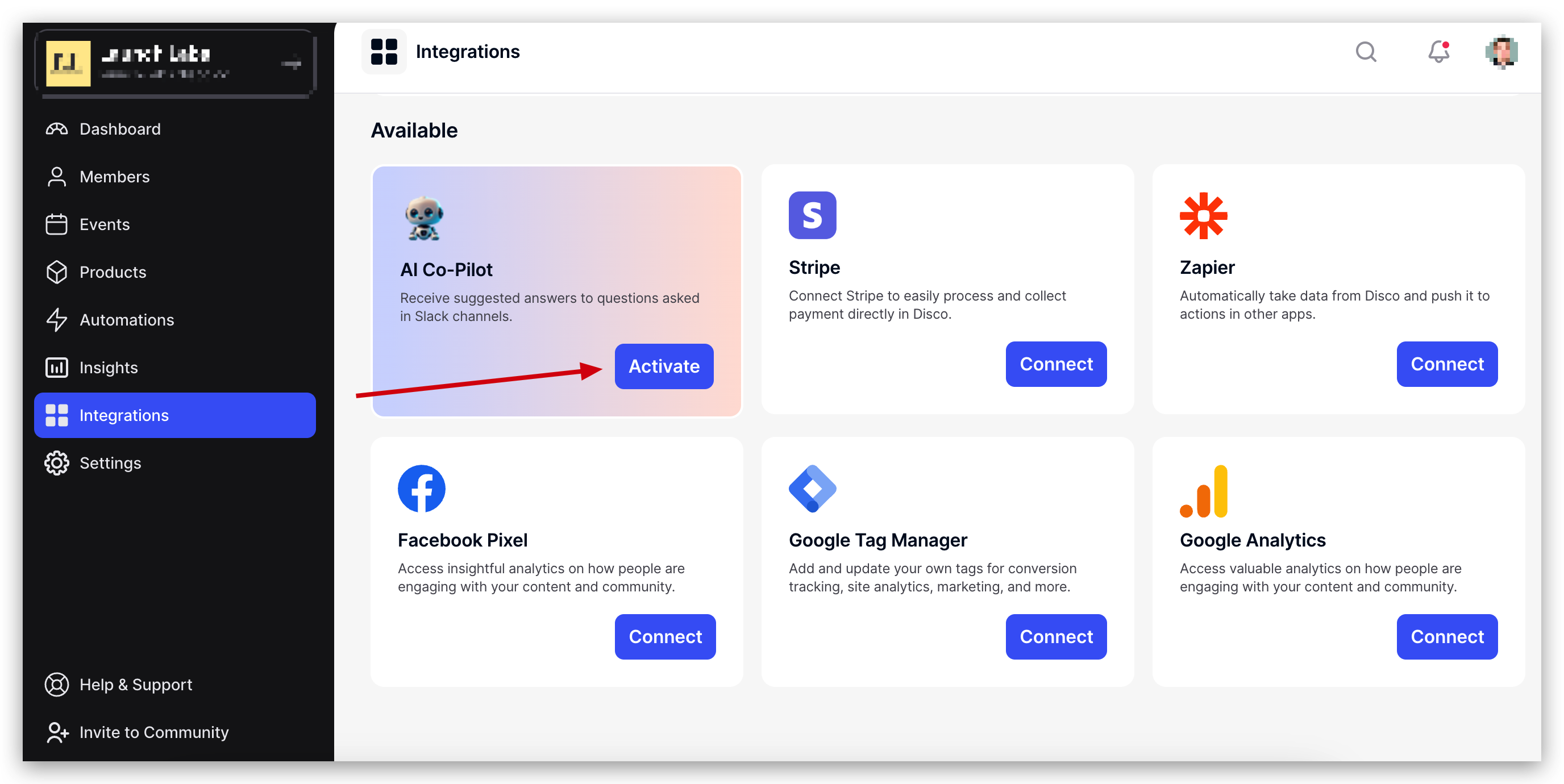 Step 3: Configuring AI Co-pilot Settings
Personality & Tone: Define the preferred personality and tone of the AI Co-pilot by selecting from the available options: Friendly, Professional, Sassy, and Scholarly. This helps customize the language and style of responses.
Emoji Use: Specify whether or not the AI Co-pilot should use emojis in its messages.
Channel Approval: Determine the designated private channel where AI messages will be sent to Admins to copy/paste in the appropriate thread.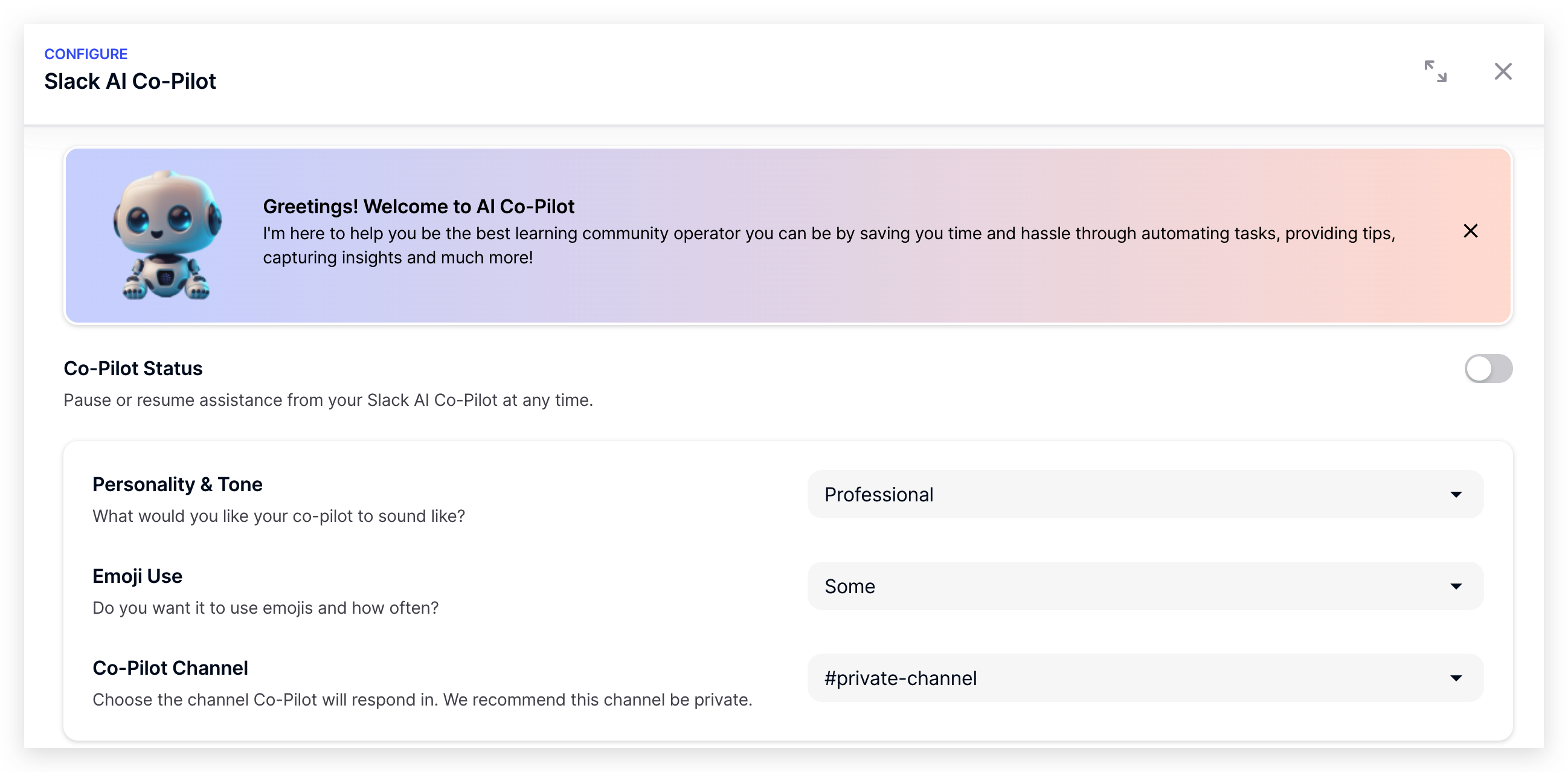 Monitoring Channels: Configure the specific channels that AI Co-pilot should monitor for incoming messages and tasks.
Response Delay: Set the duration AI Co-pilot should wait before suggesting a response to Admins for approval.

Step 4: Interacting with AI Co-pilot
Once AI Co-pilot is activated and configured, it will start monitoring the specified channels and within your Disco community.
As AI Co-pilot detects relevant messages or tasks, it will provide a suggested answer to assist you in your community management activities.
Review the suggestions provided by AI Co-pilot, and if necessary, make any necessary modifications or approvals before posting the response in the approved channel.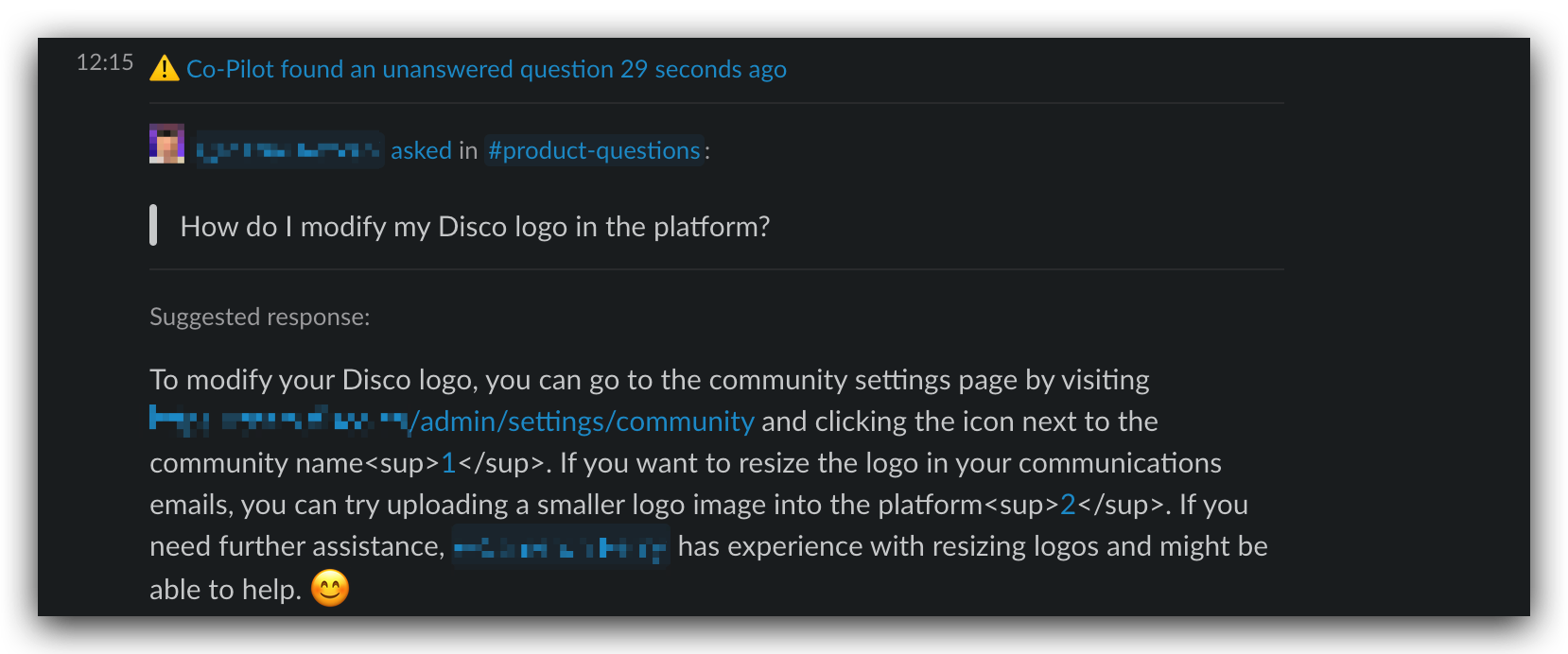 Step 5: Monitoring and Adjusting AI Co-pilot Performance
Regularly review the AI Co-pilot's performance and effectiveness in it's suggested responses.
Monitor the approved channel where AI Co-pilot posts responses to ensure accuracy and quality.
Adjust AI Co-pilot settings as needed to refine its performance and align it with your community's needs.